Hi Friends,

This picture of the girl on Wallstreet is from 3 years ago... no Bull market today! But nevertheless, she persisted! Are you still persisting? I know it's rough! Blessings on all who continue to persist in these hard times!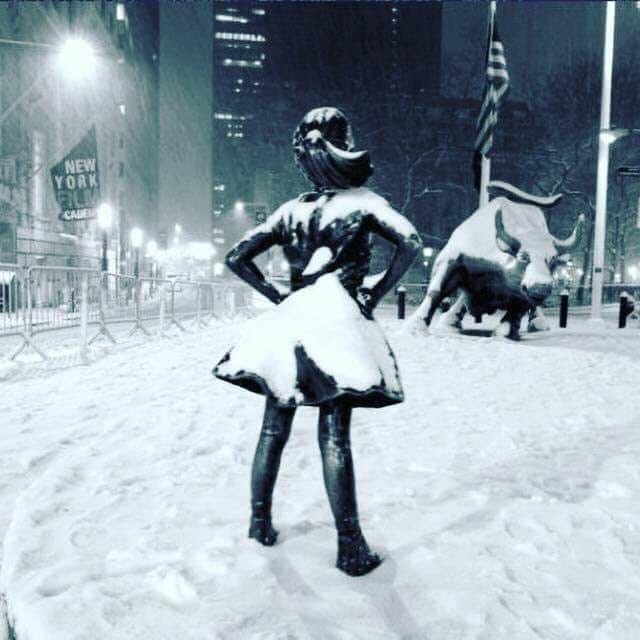 Does it seem to you like the world is being put in a time out? This pandemic seems a little weird and scary, but there's also an energy that comes with faith and survival.

Love grows stronger When the going gets rough—especially when we serve our families and friends. If you're feeling overwhelmed today, or disappointed about canceled events, that's okay. It's only natural!
Remember it's always the darkest just before dawn, and no one—not even a virus, can hold back the dawn!

Valarie Kaur likens our dark times to the process of birth. She says we are not looking into the darkness of the tomb, but the darkness of the womb and soon we will see the light which will bring new life!
---
I hope Valarie's right, it seems we are in process for something.
It's okay to feel anxious about our health or the health of our loved ones. Just remember we have the tools to refuse entrance to this virus. I watched a video with a doctor who said this virus wants a host and by washing our hands and isolating from others right now, we can refuse to give it a place to live.

It's okay to be sad because we can't do all the social things we planned, but we can use this time to do some things we've wanted to do for a long time and just never found the time to do.


Conversations will not be cancelled. Relationships will not be cancelled. Love will not be cancelled. Songs will not be cancelled. Reading will not be cancelled. Self-care will not be cancelled. Hope will not be cancelled. May we lean into the good stuff that remains.

One reason I've been able to remain almost calm is that I've endured crazy times in the past.
Resilience is a persistent flower growing up through rocky soil with hope and gratitude to meet the sun while feeling the rain drench its face. -Cherilyn Christen Clough
---
---
My gratitude list is long because I often compare my life—even in good times to my teen years. If you've read my memoir Chasing Eden, you'll know what I am talking about when I say, I've been grateful every day of my adult life for a roof over my head and hot showers. I never turn on the water to wash my hands without being grateful and now the more I wash my hands, the more grateful I feel!


My mom is a germaphobe and she broke her hip at the end of January. I went up to see her and then called her nearly every day while she was in a rehab facility. The virus had already unleashed at that point and I prayed every day for her to be able to get home and not get sick. I know others who have family members in such facilities were not so fortunate.

I know she was getting on the nerves of the nursing aides who were continually questioned about washing their hands and her toothbrush before they handed it to her, but that's ow she has survived to 82. I'm glad to say she's home now and her hip has also healed.


How Much is Enough?
Last week, I saw pictures of people buying toilet paper and hand sanitizer. My husband and I bought a few hand sanitizers which are a staple at hour house. We use them in the car when we can't wash our hands even when there isn't a pandemic. He offered to buy me a dozen bottles and I told him. "Just get six. Let's leave something for someone else."

It was weird because I've been taught by my mom that those sanitizers might mean the difference between life and death. But if I say I want to follow Jesus and be willing to lay down my life for my friends, it seems giving up a few bottles of sanitizer is a small sacrifice. This inspired me to paint a new picture.


I've made three paintings in the last week. I find it soothing to make art. I'm also finding it nice to listen to books on tape while I paint or do housework. I'm currently listening to The Runaway Bride by Jody Hedlund. This author has written some interesting books in the past about historical figures including one about the Whitmans, of Whitman Mission, which is near Walla Walla University where I went to school.

This Runaway Bride is nothing like the hilarious Julia Roberts 1999 movie, but I'm fascinated by the premise. Apparently, there was a time when there were ten men to every woman on Vancouver Island and hardly any eligible men left in England. This created a unique situation and ships full of women came to Vancouver Island to find husbands. I'd never heard of this before, but I find the idea entertaining and in this day of coronavirus updates, it's nice to read about simpler times. Although I must warn you, there is a smallpox epidemic in the book to remind us that life is never perfect.

Here are a few articles I wrote that you might find interesting—
The 4 Waves of Feminism and Why They Matter to Christians

The Quickest Way to Lose Followers Is to Act Like You Know It All

Could Washing Your Hands Really Save Your Life?
What Survivors From the Past Can Teach Us
We Can Survive Scary Times—We Just Need to Use Our Minds
I watched a heartwarming movie yesterday! You can find it on Amazon or Youtube.

Here's the trailer!

Stay safe and be well friends!

Cherilyn